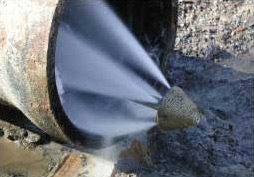 Do You Know The State Of Your Sewer?
Short of replacing your pipes, hydro-jetting is the most efficient way to clear pipes of blockages without damage to the surrounding area and infrastructure. Hydrojett pipe cleaning uses high velocity water pressure to literally blast away years of accumulated scale, silt, sand, and grease build-up on the inside walls of your pipes. Hydro-jetting has the power to burst open the toughest blockages and at the same time scours the full diameter of the pipe, flushing debris and leaving lines clear.
You may not realize it, but as a homeowner you are responsible for paying for repairs to the sewer lines running from your home to the street. In most cases those lines were put in place years ago when your home was originally built. A sewer backup is a traumatic situation which sometimes causes property damage and at the least stinks up the house. A sewage backup does not mean that your pipes are broken. Call Black Rock Underground, LLC to clean out your pipes and to inspect their condition. We will be able to give you a complete evaluation on the condition of your pipe.
Call Black Rock Underground, LLC Today! 503-747-9312