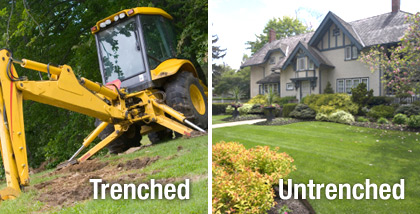 Trenchless Sewer Repair And Replacement
Superior results minimal trenching. Trenchless sewer repair and replacement is a no hassle, cost – effective means of pipeline replacement will leave both your lawn and wallet intact.
Trenchless pipe repair and replacement technology, or pipe bursting allows homeowners to to replace old lines without the hassles, interruptions and digging that a normal sewer or pipeline replacement can require. Since no-dig pipeline replacement requires only an entry and exit hole the rest of your lawn can remain just that, a lawn. Pipe bursting requires less digging and less time, therefore it can often mean less money out of your pocket.
How It Works
The pipe is replaced by digging only two holes; an entry and exit hole.
A splitting head is attached to the new pipe and hammers through the old pipe. While the old pipe is being expanded, the new pipe is simultaneously being pulled through the old pipe.
The new pipe will follow the same path as the old pipe. The new pipe will be a joint-free Polyethelyne replacement that will far outlast the pipe it is replacing. Also, because it is seamless, it doesn't allow roots to penetrate like old jointed sewer pipes do.
Up ahead the splitting head is blasting away, making room for the new pipe. Because of the power of the machine used to lay the new pipe it is possible to increase the diameter of the existing pipe by several inches depending on the original diameter.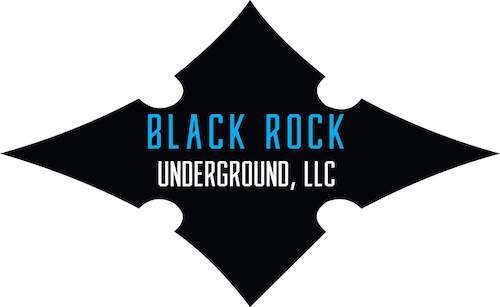 The Trenchless Advantage
Avoid excavation of your yard that result in costly re-landscaping fees
Trenchless technology saves time and money
Replace old, damaged liner or root infested pipes with cured-in-place pipe line
Seamless pipes eliminate joints that allow new root intrusion
Cured-in-place pipes increase flow capacity
Call Black Rock Underground, LLC Today! 503-747-9312