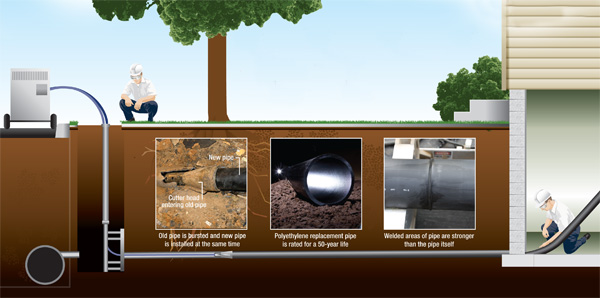 How Does It Work?
1. Identify the Problem by Sewer Camera
When we come to your home we will feed a camera through your sewer main lines. From here the technician will be able to evaluate your needs and recommend the best solution for you.
2. Access The Sewer Line
Two small holes are dug at either end of the sewer run that will be replaced. Cable is inserted at one end and fed through. One end of the cable is attached to a pneumatic jack while the other end is attached to a cone shaped bursting head.
3. New Pipe Inserted In Place Of Old Pipe
The bursting head is attached to a new seamless, heat-fused HDPE pipe. As the bursting head is pulled through the old sewer line, it simultaneously breaks apart the old pipe (even cast iron) and pulls behind the new pipe.
What Are The Benefits Of Pipe Bursting?
Save up to 40% compared to traditional methods
Repairs happen underground without expensive and damaging trenchwork
Pipes replaced with seamless high quality HDPE pipe
No Major Digging Required
Trenchless sewer replacement is performed via small access points which means that damage is minimized. You skip the week of excavation equipment at your home, piles of dirt in your yard, and subcontractor haggling to fix the damage. Tearing up your home, yard, and hardscaping is a thing of the past. Pipe bursting is a trenchless sewer replacement method where a large cone shape head is hydraulically pulled by steel cable through the old sewer line, breaking apart the old pipe underground while at the same time pulling into place a seamless HDPE pipe that is the same size or larger than the old pipe.
Saves Time And Money
Not only is excavation expensive for home owners, but creates an additional expense for remediation of the project site. When you factor the potential of subsequent repairs to your landscaping, porches, walkways, and driveways – you add a significant additional cost to a more expensive method.
Strong And Seamless Pipe
Sewer line seams and joints are point of failures in sewer lines. With a seamless high-quality HDPE pipe, you can eliminate the potential for root intrusion and offset or gapped joints.
Don't Dig if You Don't Have To
Using a simple, effective process during the pipe bursting procedure, the bursting tool is placed into your original sewer pipe at an entry hole. A constant tension winch, located at the exit area pit and attached to the head of the tool, guides it through your old sewer pipe. Continuous percussion from the pneumatic tool fractures the host pipe.

The bursting tool effectively hammers its way through the host pipe, displacing the fragments into the surrounding soil, while simultaneously pulling the new pipe, usually High Density Polyethylene (HDPE), into place behind it. Pipe bursting is the only trenchless method of replacement that allows for the up-sizing of the original pipe.
Pipe Bursting
Pipe bursting is a trenchless method of replacing your old sewer lines without the need for a traditional construction trench. Pipe bursting is like driving a nail through wood with a hammer. Repeated blows progress the nail through straight and clean.
Save Your Lawn!
Since no-dig pipeline replacement requires only an entry and exit hole the rest of your lawn can remain just that, a lawn. Pipe bursting requires less digging and less time, therefore it can often mean less money out of your pocket.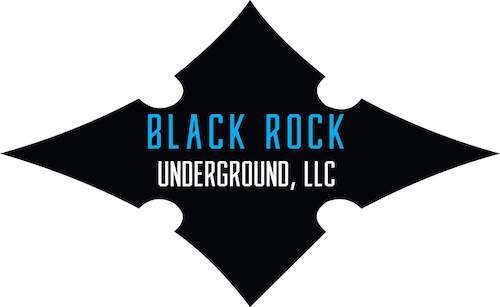 Call Black Rock Underground, LLC Today! 503-747-9312